Disclosure: Some links on this page are monetized by the Skimlinks, Amazon, Rakuten Advertising, and eBay, affiliate programs. All prices are subject to change, and this article only reflects the prices available at time of publication.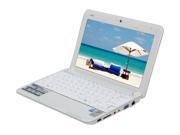 Would an MSI Wind by any other name still be as sweet a netbook? Because it turns out the MSI Wind goes by at least 18 other names. 
MSI is working with at at least 18 companies to produce versions of the popular netbook to be sold under another name. For example, there's the Advent 4211 in the UK, or the Mivvy M310 in the Czech Republic.
All told, Wikipedia lists 13 rebranded versions of the MSI Wind. Laptop Magazine found 2 more. But Cloudbook UMPC has the best list I've seen so far. They seem to have updated their list, which I've mentioned before on this site, so it now includes a whopping 18 MSI Wind clones.
Several of the companies selling rebranded MSI Wind laptops are actually charging less than MSI asks for the computer. So if you don't care that much about branding, you could save a few bucks by perusing the list and checking to see if any clones are available in your area.
Update: Funny thing about Wikipedia: People keep updating it. As of this evening, there are now 17 MSI Wind clones listed on Wikipedia. A few of which are included in the Laptop Magazine article or in the comments of this post. Thanks for reading, anonymous Wikipedia editors!