The next version of Google Android is coming later this year, and while we got a first developer preview earlier this year, Google is launching a beta program today with a bunch of new features.
One of the key themes in those new features? Intelligence. Android P uses on-device machine learning to help save battery life and put the apps, contacts, and other things you're likely to need in front of you more quickly.
For example, there's an Adaptive Battery feature that figures out which apps you're most likely to use in the next few hours and which you're not likely to use until later in the day, if at all. It then restricts the resources used by those idle apps to help prolong your battery life. Google says in tests, the Adaptive Battery tool can reduce the app wakeups by up to 30 percent.
Another battery-saving feature is called Adaptive Brightness, and it's a more powerful auto-brightness feature that will change your brightness slider depending on your circumstances. Google says it's seeing people make manual brightness adjustments much less frequently when using this feature.
Other machine learning features include App Actions, which allow apps to place actions, such as calling a Lyft car, ordering a meal from a restaurant, or calling a contact, to places like the stock Android app drawer/search bar, the home screen, or Google Assistant.
As expected, Google is also bringing some user interface and navigation changes to Android P. For example, there's a new gesture-based multitasking system that lets you open the recent apps view when you swipe up from the home button, and you can flip between them by moving left or right or move more quickly using a slider next to the home button.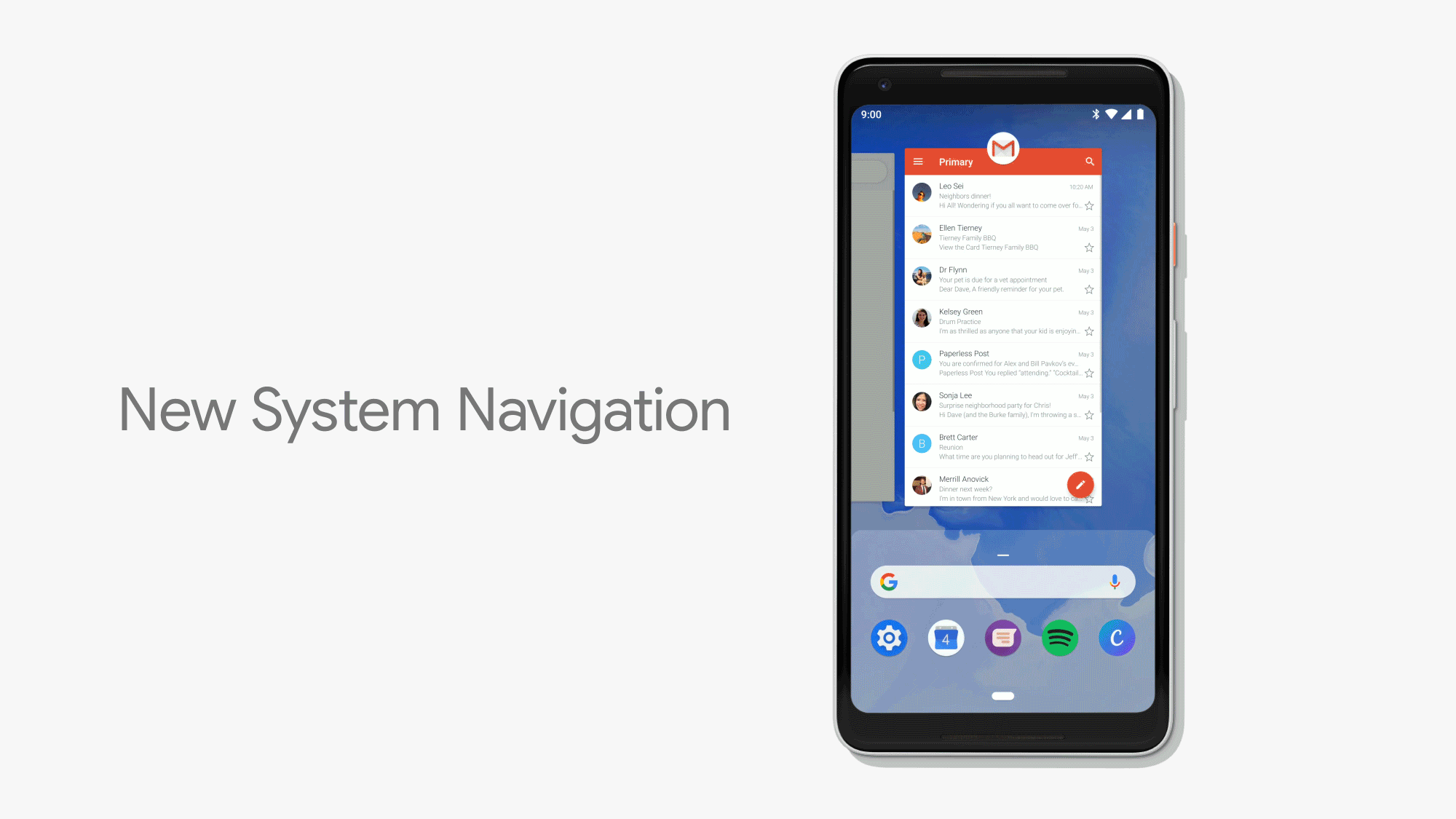 Google is also adding a new screen rotation button that lets you override the rotation lock feature quickly if you want to switch to landscape or portrait mode in apps like Gmail. And there are new volume controls that let you quickly adjust notification and media volumes with a slider on the side of the screen.
Interestingly, another common them in Android P? Tools to help you spend less time interacting with your phone.
For example, there are tools to help you see how much time you're wasting spending in different apps, and an App Time option that will grey out an app to keep you from opening it when you've decided you should be done.
There's a "Wind Down" mode that automatically turns on Do Not Disturb and gradually fades the screen grayscale to help you get less distracted when it's time to get ready for bed.
A "Shush" gesture automatically enables Do Not Disturb when you turn your phone over and place it face-down on a surface.
Want to make sure you don't miss an important call? You can set starred contacts that will always be able to get through.
You can try out these and other new features by signing up for the Android P beta program, which is open today for Google Pixel phones and devices from seven different phone makers, including:
Essential PH-1
Nokia 7 Plus
OnePlus 6
Oppo R15 Pro
Sony Xperia XZ2
Vivo X21
Xiaomi Mi Mix 2S
It's worth noting that one of those phones won't officially be announced until next week, but just about the only thing we don't already know about the upcoming OnePlus 6 is the price.
Other new features in Android P beta include:
Support for smart replies in notifications
Text magnifier feature that makes text selection easier in supported apps
Background app restrictions to extend battery life
Dynamics Processing Effect for audio
Biometric prompt API to display a new standardized experience for face, iris, or fingerprint logins
Stronger private key protection
The low-battery notification will give you an estimate of what time your phone will run out of power
Notifications for apps running in the background will show if they're using the mic or camera
Replying to a notification doesn't dismiss it anymore, so you can make multiple responses and then swipe to dismiss