Thanks to the folks at MyFixGuide, we already have a good idea of what a phone with one pop-out camera looks like when you take it apart and peek at the spring-loaded mechanism that ejects and retracts the camera.
But what about a phone with a slide-out mechanism that houses both the front and rear cameras?
MyFixGuide tore one of those apart too. The team has posted an article showing what it takes to disassemble the recently launched Oppo Find X, and what you'll find on the inside once you do.
There's a motor that powers a "dual track periscope structure" that basically pushes up both the left and right sides of the phone. There's a cushion to help reduce friction and make sure the camera section slides smoothly out of the phone and smoothly back in when it's not in use.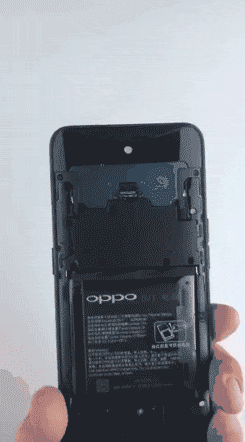 It's not just the slide-out structure that makes the Oppo Find X unusual though. The phone also uses a complicated set of cameras and sensors for iPhone X-like face recognition, so the teardown gave us a good look at the infrared LED and sensor, proximity sensor, dot projector, and front camera on the front of the camera section.
The rear camera setup almost looks boring by comparison, but you get a 16MP Sony IMX519 camera sensor with optical image stabilization and RAW HDR support plus a 20MP secondary camera.
Like most modern smartphones, tearing the Oppo Find X apart is probably easier than putting it back together: you'd need to melt some glue and remove a lot of little components to get at the phone's innards. And if something needs fixing, good luck finding replacement parts for this one-of-a-kind (so far) device.
Still, it's nice to see that a phone that's different from the competition both on the outside and in its interior.
You can find more details at MyFixGuide.com.
Subscribe to Liliputing via Email
Join 9,447 other subscribers