The Atari VCS is a retro-style game console that will ship with over 100 classic games. But it's also a modern computer powered by an AMD processor with Radeon graphics and an operating system based on Ubuntu Linux.
Atari has been providing a few details at a time about the VCS since last summer. Now it's finally up for pre-order for $199 and up through a crowdfunding campaign at Indiegogo.
While there are still some details that haven't been finalized, we now have a better look at what the device will look like, how it will work, and what kind of software and experiences to expect when the Atari VCS ships… but it isn't expected to ship until spring, 2019.
The physical design of the Atari VCS is inspired by classic Atari game systems. The entry-level "Onyx Edition" model has an all-black design, but there's also an Indiegogo-exclusive "Atari VCS Day One Collector's Edition" model with a wood panel on the front.
The Atari VCS also supports an optional game controller that looks like a classic Atari joystick, but which works via USB or Bluetooth connections. And there's an optional "modern" controller that looks more like an Xbox-style game controller with additional buttons, stick, and pads.
Since the Atari VCS is basically a low-power Linux computer designed to run games, you can also bring your own controller. The $199 starting price is for a console without any controller. You'll have to pay an extra $30 or more to get an official controller.
You can also connect a mouse and keyboard, external storage devices, headphones, speakers, or other peripherals including webcams (and maybe even printers).
There are HDMI, USB, Gigabit Ethernet, and SD card ports on the back of the computer, and it supports dual-band WiFi and Bluetooth 5.0.
Atari says the console has a "low TDP architecture" and generates less heat and noise than a computer with a more powerful processor. Unfortunately it looks like it's shipping with a 2016-era AMD Bristol Ridge A1 processor and Radeon R7 graphics rather than a newer Ryzen processor.
That will probably help keep costs down, but it also makes it clear that the VCS is designed to run older games and less resource-intensive modern titles rather than the latest AAA video games.
Other specs include 4GB of DDR4 memory, 32GB of eMMC storage, and support for SD cards or USB drives for additional storage.
The system supports HDMI 2.0 with HDCP 2.2, has 4 front-facing microphones for voice controls and/or voice chat. The Atari VCS console measures about 14.5″ x 5.3″ x 1.6″ and weighs about 3 pounds.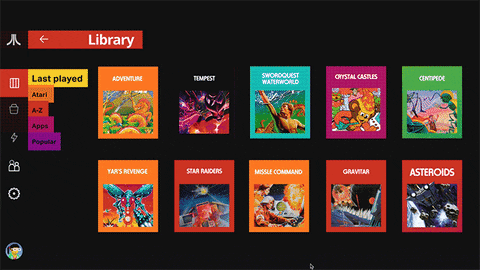 It'll ship with an Ubuntu-based GNU/Linux operating system with the Linux kernel 4.10, and while there's a customized user interface for managing games and downloading additional titles from the internet, there's also a Linux sandbox for running full-fledged desktop PC apps and games.