The Atari VCS is a work-in-progress game console with a design inspired by the classic Atari 2600. But while the VCS will come with a bunch of 80s-era games pre-loaded, it's basically designed to be a full-fledged computer with (relatively) modern specs.
The folks at Atari launched a crowdfunding campaign for the VCS in May, and the company has raised more than $3 million in pre-orders so far, even though the Atari VCS isn't expected to ship for another 12 months.
That's more than 30 times the original goal, so it's nice to see that the designers have decided to give the VCS a spec bump: it'll ship with 8GB of RAM instead of the 4GB that had originally been promised.
Atari VCS System Architect Rob Wyatt mentioned the update in a recent Q&A article explaining some of the design choices behind the VCS.
The VCS measures 14.5″ x 5.3″ x 1.6″ and features an AMD A10-9630P Bristol Ridge processor with Radeon R7 graphics. It has 32GB of eMMC storage and supports SD cards, external hard drives, and other forms of USB storage.
Other features include HDMI 2.0, Gigabit Ethernet, four USB 3.0 ports, dual-band WiFi, and Bluetooth 5.0.
The system runs a custom Linux-based operating system called AtariOS which will have a game and app store and a TV-friendly user interface. But Wyatt says the Atari VCS is also designed to be developer and hacker friendly. There won't be a special developer edition version of the VCS, because any unit can be used for development once the SDK is released.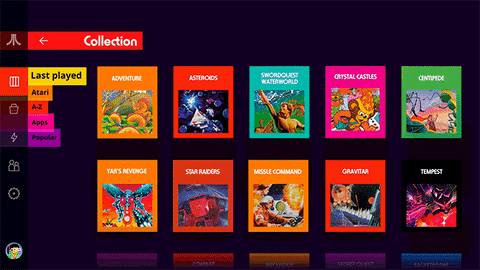 And if you want to boot an operating system other than AtariVCS, all you need to do is load it on a bootable storage device such as a USB flash drive. Plug in that bootable device, turn on the VCS, and it'll automatically run from your external storage. Want to return to AtariOS? Just shut down the system, unplug your device, and reboot it.
Wyatt says that unlike some other game consoles that could support alternate operating systems, Atari won't have any hardware restrictions. If you want to use Ubuntu, you'll have full access to the CPU, GPU, memory, audio, USB, display, and networking hardware.
Since the Atari VCS has a custom bootloader, you will have to make some small modifications to the OS you want to load, but Atari will offer some sample code showing how to do it.
Wyatt also explained why the company decided to use a 2016-era AMD processor instead of a newer, more powerful AMD Ryzen processor.
He says that because of the small size of the VCS, the company would have to throttle a Ryzen processor to keep it from overheating, which means it would only offer slightly better performance than a Bristol Ridge chip. So instead of spending the extra money on a newer processor, Atari opted to double the amount of included RAM.
It's worth noting that he doesn't specifically talk about which Ryzen processors the company considered. This seems like exactly the sort of device that a Ryzen Embedded V1000 series processor is designed for, but it's possible that AMD hadn't announced that option when Atari started the process of designing the VCS.
The Atari VCS is currently up for pre-order for $239, and the company isn't ready to show off a working prototype with the final design and software yet, so proceed with caution. But Atari certainly knows how to generate buzz.
Subscribe to Liliputing via Email
Join 9,447 other subscribers